FEARLESS LEADER & CREATIVE GENIUS
JUSTIN
Ever since I was a kid, I've found happiness in doing acts of kindness for others. In the 6th grade, I collected quarters at lunch time from fellow students to purchase toys for kids in need during the holidays. That same DNA is on full display now. Since creating Chaos & Kindness, I have been able to meet and help so many incredible humans around the world. My efforts on mental health, not only for myself, but everyone who faces challenges is a passion of mine. If you're reading this, chances are you have made a purchase from C&K. I want to thank you from the deepest parts of my soul for helping us make a difference in the world, and showing that in a world full of chaos we can all show more kindness.
KINDNESS CO-PILOT & EDITING EINSTEIN
RYAN
After a high school project led him to the art of producing and editing film, Ryan developed a passion for it that would carry him into his career with Chaos & Kindness. While co-starring in the TV show alongside Justin, Ryan actually spends most of his time behind the scenes editing and has now edited more than 100 episodes and won several Emmy awards for his work. His passion for making the world a better place combined with his ability to inspire viewers through film, has made him a vital part of the Chaos & Kindness family.
DESIGNER BY DAY & ROLLER SKATER BY NIGHT
TONY
Tony Zane is a graphic designer and dancer that roller skates. Being the senior designer and art director for Chaos & Kindness, he brings his good energy and fun style to the brand with his work. Starting out designing his own signature roller skates, to now heading up the art department designing graphics and professional templates for C&K, Tony helps make the kind in Chaos & Kindness really pop! He is always up to take on new tasks and put his skills in design to the test. He loves that everything with Chaos & Kindness has purpose, therefore so does his art. Tony uses everyday life, growing up in Chicago, and what he has seen through his travels as inspiration when it comes to his work. From designing crazy C&K wraps for NASCAR, to dancing around the office blasting music, Tony is always bringing the energy and skills needed to bring the brand to the next level.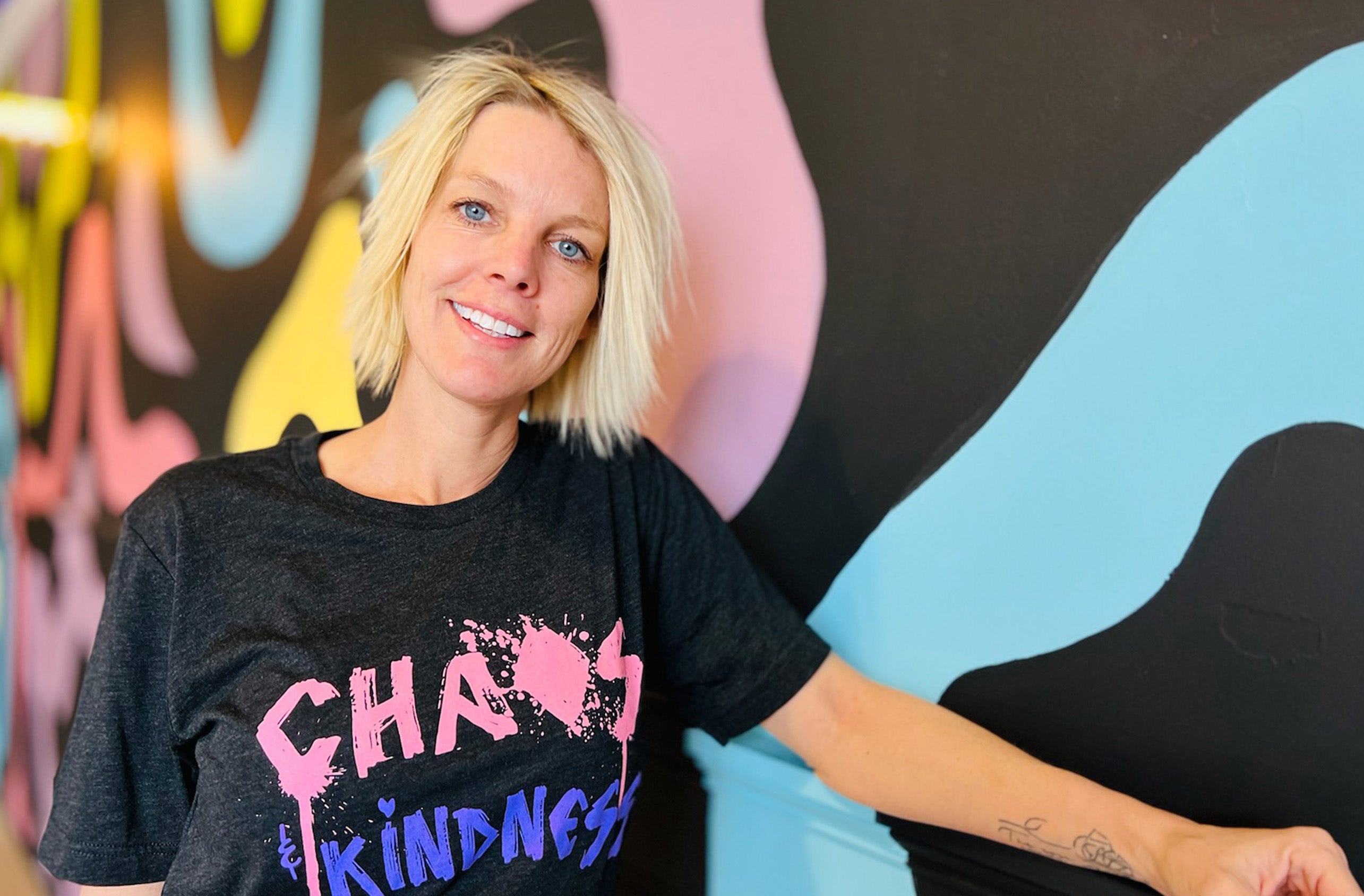 MASTER HUSTLER & 5-HOUR ENERGY LOVER
WENDY
Born and raised in Indiana, Wendy embodies the kindness of the midwest. Wendy is the CRO (Chief Retail Officer) and uses her endless energy to operate all of our stores and online retail. Wendy was the first ever paid employee of Chaos & Kindness, and her dedication to making our brand better everyday has landed her where she belongs — as the leader of our retail team. You will never find a harder worker, while still maintaining her incredible positive attitude.
COMMUNITY OUTREACH COORDINATOR & QUEEN OF MEAL PREP
QUINN
Quinn leads the Community Outreach division of Chaos & Kindness. She wholeheartedly believes that we are all independently capable of anything, but that collaboration with like-minded people can truly leave a lasting ripple effect of positivity. She has chased dreams in the entertainment industry for most of her life; dancing professionally for the New York Knicks, in a Las Vegas headline show, and as a captain of the New England Patriots Cheerleaders. Through her performance experiences she has traveled globally and holds closest the opportunities to interact with and serve a great variety of communities. Alongside her favorite visionary and two treasured daughters, she is thrilled to join forces with people everywhere, to share smiles and make connections through communities of kindness.
CUSTOMER SERVICE SUPER STAR AND ANGEL ON EARTH
BECKY
Becky is our customer service specialist. Her sole role within Chaos & Kindness is to be there for you. When you reach out with an issue and need a solution, Becky is the person that has a remedy. Becky's personal story is as inspiring as any ever told. She has adopted 3 medically complex children; Joseph 18 years old, was born extremely premature, Makenzy 9 years old, has a rare syndrome called OHDO, Liam 5 years old, has schizencephaly and polymicrogyria. Becky and her husband Steve have 8 children total, 4 of them adopted. The fact that she can raise these children with varying needs and still finds the time to be there for our customers everyday is so humbling.